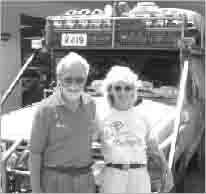 Grenada became the 139th country to be visited by world record holders of the "Longest Driven Journey"", in the Guinness Book of records Emil and Liliana Schmid.
The Spice Isle became country number 139, on August 9th when the Swedish couple who currently hold the world record decided to tour Grenada in their Toyota Land Cruiser motor vehicle.
According to the couple they began their journey to erase and set the world record for the longest driven journey, on October 18th 1984, some (181/2) years ago, in.
Mr. Schmid told Grenada Today last week that thirteen years after their journey began they matched the then existing World record which was held by an American couple Coleman and Larson who had driven through 113 countries in a Volks Wagon bus.
He noted that they have matched the record himself and his wife decided to make their dream a reality and in so doing took their tour to Rome where they visited the Vatican in 1997 which became country number 114 and the setting of the new world record.
He explained that their journey took them through Africa, South and Central America, the middle East and now the Caribbean.
Being on tour of the world for almost two decades it was rather interested to know what kept the two surviving through these millions of miles from continent to continent. When asked what are some of the "must haves", the couple said water, food clothing, first-aids, sleeping aids, health-supplements, gasoline, maps, GPS, washing detergents, plus the will power strength and blessing to carry on.
Mr. Schmid added that their journey to the Caribbean was decided while in Colombia when they heard of an opportunity via a ferry to Trinidad and Tobago.
The couple said that they successfully made it to Trinidad and Tobago, their 138 at 570,175 kilo meters, while on the tour.
"While in Trinidad we where were recognized by the Toyota representative in Trinidad as the 'World Conquerors' in a newspaper advertisement".
The world record holders also indicated that since they bought the vehicle twenty years ago they never had to conduct any work whatsoever on its engine and body, save and except an over hauling of its gear box which took place while they were in Trinidad and Tobago earlier this month.
Upon leaving Trinidad the couple claimed they headed for Grenada via the "Panorama" ferry which visited Grenada for the carnival celebrations.
Grenada Today gathered that the Schmid"s, on arriving in Grenada were given full clearance by the Grenadian Government through the assistance of Mrs. Elizabeth Henry - Greenidge the Permanent Secretary in the Ministry of Tourism and Mrs. Brenda Hood the current Minister of Tourism and the Cabinet whom he understood waived all of the duties.
He said that they were also given a visitor"s number plate by the Government who had also welcomed them to the island.;
The couple also noted that while in Grenada their luck struck when they met Mr. Steele of Steele"s Auto Supplies in River Road who was and continues to be very grateful to them.
The Schmid"s said that Mr. Steele was more than genuine when he allowed them to use his premises and have agreed to pay their passage to St. Vincent and the Grenadines, including the freight for their vehicle to be shipped to St. Vincent.
He said that from St. Vincent they will be heading to St. Lucia, Barbados, Dominica, and Antigua.
He said that all of the countries except Antigua have already indicated that all port and landing charges for the clearance of their vehicle will be waived.
The couple said they view the move by the Caribbean governments including Trinidad and Tobago, to waive the various port and landing charges as a booster to their Tourism industry since where ever the visit the good hospitality about every country and its people are being told.
CLOUDS OF SOCA
(Click on Image for order details)
Grenada's Road March Champion for several years, Flying Cloud's greatest hits are compiled on this collectors CD.
Includes new hit bound selections as "Have Some Fun" and "Punch in Punch Out" ..... coupled with the memorable selections like "Sweet, Sweet, Sweet", and the legendary "Hold Yuh Man" with arrangements by Leston Paul. A Must-Have for collectors .
MADE IN GRENADA
(Click on Image for order details)
This 2003 Grenada Carnival CD features "Cellphone" by Marieo Castle and other brilliant selections by Whiteman, Shortpree, Akima Paul, General Pe Pe, Mitch & more.