Landcruiser turns heads
- not quite new but going strong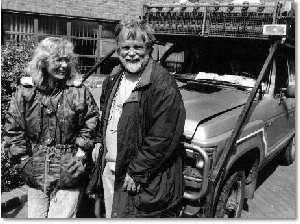 Emil and Liliana Schmid and their recordbreaking Land Cruiser
So why should a 15-year-old Landcruiser make news in Ireland during the last fortnight? Well, because it has 468,000 kilometres up, for one.
So? Sure it's a high mileage, but there are probably a few more of them around too ...
But it has visited 123 countries ... and just entered the Guinness Book of Records because its owners have just been granted the 'world's longest journey' title.
Oh ... that's do it, I suppose.
Emil and Liliana Schmid from Switzerland gave up their jobs in 1984 at the age of 42 and decided to see how their new Landcruiser would perform. Seven passports and over 60 visas later they're still on the road, about 14 years longer than they'd planned. They've driven through Africa, Australia, South America and are currently on their way to Iceland - via the Orkney and Faroe Islands.
"Once we started out on the road it was difficult to stop," Emil told Mark O'Connell, events and promotions manager for Toyota Ireland. "We've not had any major problems."
Just normal wear and tear on some components ... they've gone through 100,000 litres of fuel, 49 tyres and 84 sparkplugs.
Oh yes ... and they've taken 30,000 photographs on their trip. That'll keep the neighbours happy when they get home again.
Whenever ...
| | |
| --- | --- |
| © 1998, Brian Byrne 28/06/98 | |