Home

Our 30

th

Anniversary of "being on the road" in Angola
October 15th, 2014: Eve of the anniversary of our 30 years on the road –
by a fraction of an inch we almost didn't see the day

We are driving peacefully on a perfect blacktop road from Huambo direction Benguela. It is noon and a shady tree below an embankment invites us to make a short lunch break. I want to guide Emil backwards when he exclaims: "I cannot change into any gear anymore: Neither into reverse, nor forward, nor backward, neither in normal nor in reduction". We are alarmed and fear that something is broken in the transmission or in the transfer. After all kind of tries, Emil however manages to make the front wheels moving by engaging the front freewheel hub and climb back to the road. With an uneasy feeling we continue at low speed of 30 miles/h. Not even a mile further there is a terrible bang. The LandCruiser swings off to the right, crashes down a slope, flips to the right, then to the left, almost somersaults but finally steadies and gets to a halt in the red soil. The "guardian angels" decided that the time is not yet ripe! The lost wheel itself speeds towards a round hut village where it finally stops right in the middle of it. The shock is profound! If Angola was driving on the left-hand side like the other southern African countries do, a head-on collision would have been inevitable

.


In our 30 years' history around the world it is the fourth time that we lose a wheel. The first time it happened on February 23rd, 1995, on a dusty bend between Chennai (Madras) and Puducherry (Pondicherry) in Southeast India; the second time was on April 10th, 2000, on the busy 'Interstate 5' freeway through East Los Angeles and the third time on March 2nd, 2008, on a farm track in Abbotsford near Dunedin on the South Island of New Zealand. And here in Angola we sit on soft, unstable ground right beside the road. Our main task is now to jack-up our heavy vehicle. It's ages since our Hi-lift comes into action again. After securing with two further jacks, a trestle and a huge stone under the spring package, Emil finally crawls cautiously under the car to extract the stump of the broken off axle and next to build in the spare sideshaft. Too well we remember the incidence in Morongo Valley in California in 1985 when a neighbor of our friend Lucy got crushed deadly under the car at exactly the same action. For both of us it is a matter of nerves – for the present "spectators" an exciting entertainment.


Surrounded by a group of children and a young bald head and his friend from the village eager to assist, Emil starts replacing the shaft. Night is already falling when he finally is finished. "Are you satisfied with Kwanza 5'000 (about US$50) for you and your friend" I ask the bald head in Portuguese. He agrees. I give him the five bills before the two return to their village. Emil does not call it a day yet. He bends the brake drum into shape which does not match anymore properly, puts back the wheel in order that sleeping in the car will be safe without tipping over. Without any food since breakfast, but with a couple of Angolan Cuca Beers to soothe our nerves, at 10pm we lie down exhausted but happy to have survived.


At 10.30pm the bald head reappears at our window and repeats in an upset voice constantly the word "gatunos". Not knowing what it means we call Yudo, the owner of the strawberry farm "Jamba" in Lubango who kindly left us his cell number in case we should run into difficulties. The word means "thieves", he translates. We are getting uneasy! What are we going to do? Call the police? It doesn't make much sense. Thus we listen intently into the night and await the course of events that might arrive. Nothing happens, but for sure we don't get a wink of sleep anymore. But it's somewhat a relief to know that we have cell reception what isn't at all the case everywhere in Angola.

On January 24th, 2015, in Clanwilliam in South Africa, after 2'312 miles [3'720km] we loose the next wheel!
click a picture to see details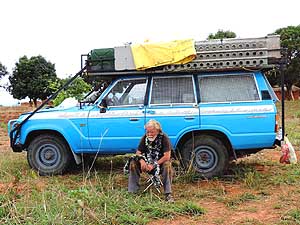 Another milestone: Our unusual 30th anniversary of exploring the world
October 16th, 2014: 30 years on the road at mile 30 between Huambo and Benguela

,

short of Longonjo:
It is midnight and our 30th anniversary on the road "rings in". Exactly 30 years ago we drove the LandCruiser from our residence in Wallisellen to Zurich/Switzerland to put it at the freight depot into its first container (recently it was the 28th), which brought it via Antwerp to Montreal in Canada. We are heads-up. Trucks thunder past us, turning their blinding headlights on us. We get up at 5am. Soon after, our two helpers pop also up. It would not be Africa if they were not trying to get more money from us. But we stand firm, give them instead three new baseball caps and a big tin of Nesquick. Thereupon they disappear not to be seen again! Not knowing the reason why the axle shaft broke, for reasons of precaution Emil dismantles the rear propeller shaft and puts it on the roof rack. There is one more thing to be done before we leave our weird "jubilee spot": I decorate my demoralized and exhausted Emil, daubed with grease, oil and red soil with the garland I bought in Lubango to adorn our LandCruiser for this milestone celebration and take a picture of him and the car.

Then, at 11am we start our cautious attempt to reach the paved road. Will our LandCruiser manage to climb up in H4 with the only functioning front wheel drive? Thank God – it works! Like on an eggshell, we continue our journey, again at a speed of only 30 miles/h. No one speaks, too tense are our strained nerves. How differently, how happy were our two last "epic journey" anniversaries: Our 20th anniversary under the Caribbean sun under swaying palm trees at a beach in Saint Martin and our 25th silvery jubilee under the Pacific sun in Tahiti. The African sun brought us no luck on this special day. By a fraction of an inch, it could have meant the end of our adventure – therefore we had after all still luck!

Yet, two days later at the strawberry farm "Jamba" in Lubango the "jubilee bells" still are ringing for us: We are sitting with Yudo's family and his friends under a shady tree in his garden. As a huge surprise for us Yudo and his wife Tania organized secretly a belated small celebration. Even the anniversary cage, baked by Tania, is not missing. We are truly touched! When under cheers and good wishes we blow out the single candle – symbolic for our 181st country Angola – we know, that we will treasure this happy moment with new friends who after all gave to our 30th anniversary the glory it deserves!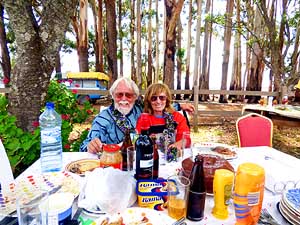 Y

et, two days later we

celebrate

our

delayed

milestone anniversary
Leap in time

backward

to the 20th Travel Anniversary

on the island of

Saint Martin/Sint Maarten in the Northern Antilles/Caribbean

Leap in time

backward

to the 25th Travel Anniversary in Tahiti/French Polynesia/Pacific

Leap in time

forward

to th

e

3

5

th Travel Anniversary in Brazil/South America
Angola Part 1 –

September 26th to October 4th, 2014

Angola Part 2 –

October 4th to 22nd, 2014